If there's been one surprise about parenthood – and it really shouldn't have been a surprise, and there's been more than one – it's that it makes things more complicated. Every day things. I have had to re-learn how I do things I used to do without having to think about it. Before, if I wanted to do laundry, I would simply sit down, turn on the TV, sort clothes, and get started. Now I have to do it in bits and pieces while the baby is asleep or while Clancy is feeding her or otherwise taking care of her. This has turned into a big deal when, as the baby sleeps, it's also been my job to move from the old house to the new.
One thing I haven't really figured out was getting a haircut. Haircuts have never been simple in Callie. There is one barber, he doesn't take reservations, and every time I go in there he's "booked." So I've been getting my haircut while taking trips to Redstone. I can't leave the baby with Clancy while I drive an hour each way, though.
My hair has been cut only once since she was born. Back in Colosse, when I had parents looking after Lain. That was four months ago. I'm due.
I've not actually grown my hair out since I worked for Mindstorm in Cascadia. At the time, I figured, "Hey, this is an employer that doesn't care if I look professional or not. Why not take advantage of it and grow my hair out?" It didn't last because it felt like I was operating behind my station in life. Long hair is for the young and carefree. I was a thirty-n-change aged professional. It lacked what I personally consider to be age-appropriateness*.
This would go doubly for parenthood, which is another phase in life and one where I would consider shaggy hair to be even more inappropriate. Yet shaggy my hair has become. And I don't get to shower every day like I used to. Or I don't get around to it. I have less excuse there, I just need to re-learn when to shower (basically doing so at night instead of in the morning). Because I shave in the shower, my facial hair has grown into more than just a stubble. Besides, if my hair is shaggy, why bother with my face? I'm already a hippie freak. Grooming is less a priority than it was before more generally.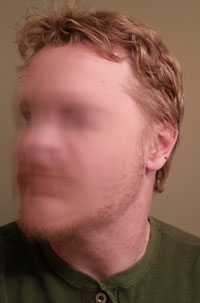 None of this is as it is supposed to be. But a broader lessen hear is that parenthood doesn't give my vanity all that much time. If I have spit-up on my shirt, I have spit-up on my shirt. The pee stain was where I drew the line (though I'm really glad it was on me and not the sofa!).
I plan to fix the hair thing next week. Clancy has an appointment in Summit and I will be driving her. After her appointments, we find a discreet place to park so that she can breastfeed. This used to be dead time, but lately we have been parking in some shopping place's parking lot so I can go in and shop while she feeds the baby. So this is how I am going to get my hair cut, I think. I will park in the Walmart parking lot, go in and get my haircut. She'll likely finish before I am done and so she will shop.
Which, to me, has always been the primary greatness of Walmart. It's never been about the prices. It's been about the collapsing of multiple things into one thing. I've not historically gotten my hair cut there, because Great Clips has my preferred haircut on file. But I've got a baby now, and vanity is the first thing to go.
* – Of those, this day in age, age doesn't mean what it used to. The notion of age-appropriate isn't what it used to be. This is a tide with which I do not roll. Consider it a character flaw, if you like.