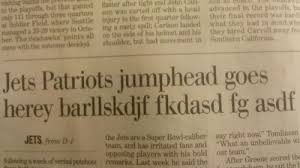 [Sp1] An interesting thing about the NHL pushing college hockey is that unlike the NFL, they have a robust minor league system and aren't entirely dependent on college.
[Sp2] The problem with this plan is that I'm pretty sure people would rather watch Texas and LSU play than Texas Southern and Southern, even if the latter actually has better players.
[Sp3] Our cricket association – which apparently we have – was kicked out of the ICC.
[Sp4] Oops.
[Sp5] The NFL's advertising juggernaut is taking a hit.
[Sp6] He should really just give up smoking, because I don't think Arturo Garcia's wife is ever letting him go out for cigarettes again.
[Sp7] Doping (well, cocaine) scandal in the world of greyhound racing!
[Sp8] Did Pawtucket finally figure out how cities can avoid getting screwed on stadium deals?
[Sp9] I know people play hurt sometimes, but this hard core.
[Sp0] Hey, we've all been there. Speaking of lacrosse, their games are appearing regularly on Twitter. It's a really good publicity as it has increased my interest in lacrosse. They should (maybe along with rugby) set up a network on Pluto TV.
Oh my goodness! Jack Kelly full field goalie 2-point goalie goal! https://t.co/oJkK8CQ2nw #MLL #DENvsATL pic.twitter.com/wFtDbKfgUT

— Lax Sports Network (@LaxSportsNet) July 5, 2017