Ten Second News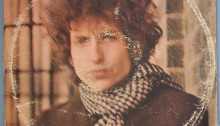 The times, they really are a-changin'.
(I'm going to take a page out of William Brafford's book and write about Gillian Welch's The Harrow and the Harvest until I feel like stopping.  But really, you should listen to the music more than you should pay attention to me.) The final song on the album, "The Way the Whole Thing Ends," was…
Noted Creed apologist Joe Carter points us to this sure-to-be contentious Bob Dylan takedown. Let the arguments begin!