Ten Second News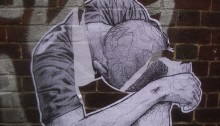 Just because things have always been this way, doesn't mean they always need to be this way.
In true Canadian style, Jonathan McLeod goes from talking about hockey to talking about sexual assault to talking about feminism.
Because everything is about hockey and hockey is about everything, apparently.
These days, I probably write more posts about being a parent than anything else (aside from left-leaning wonks, of course). This is as it should be, since I spend a solid 30 hours/week caring for two children under the age of two. Other than respiration and opening large bottles of bourbon, no other single activity…